SIMRETRO: FPGA board for old games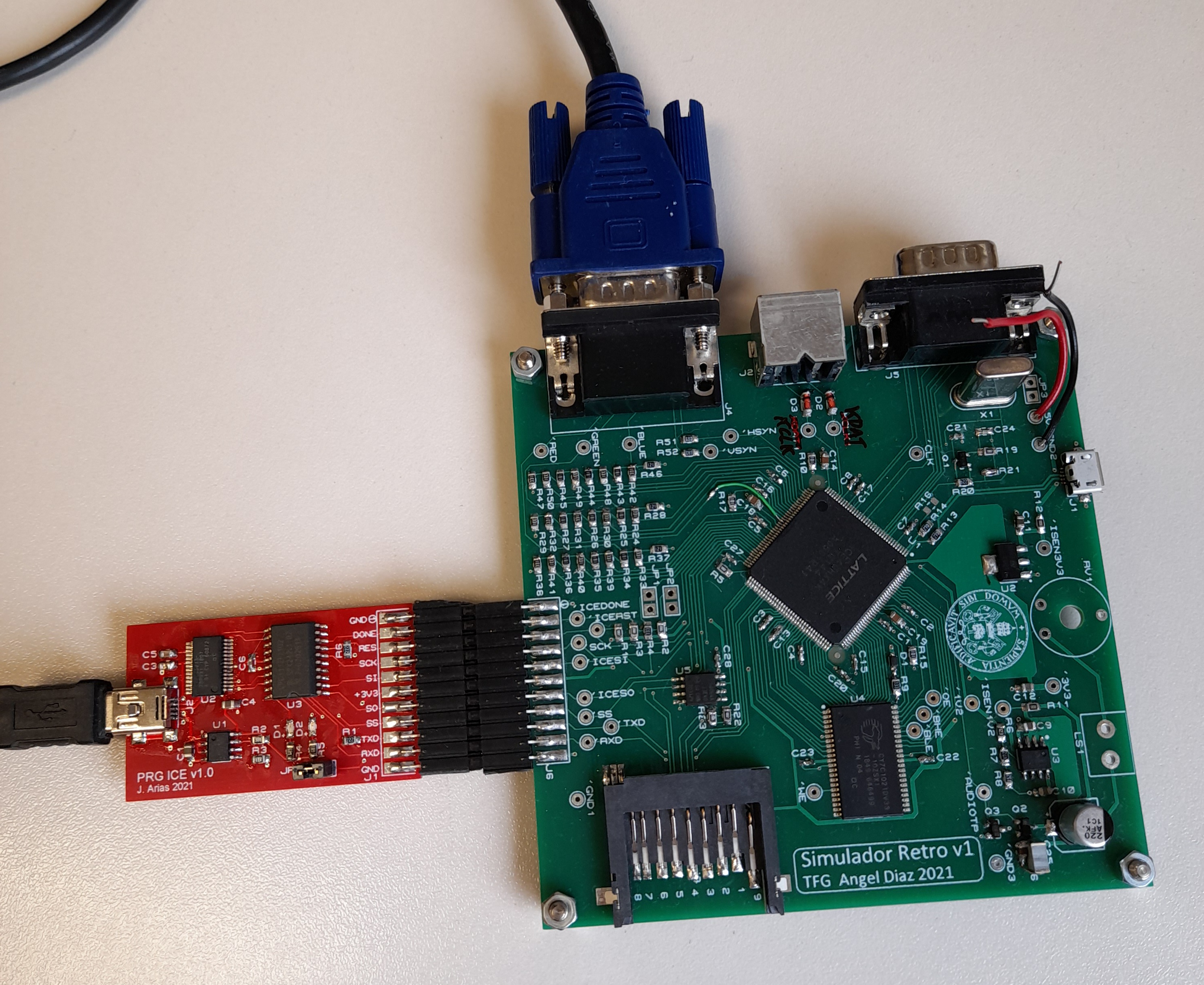 Programming board (red) connected to an old revision of the SIMRETRO board (green)
SIMRETRO is a board designed by Angel Díaz under the supervision of Jesús Arias for the hardware emulation of old 8-bit computers and / or arcade machines. It requires an additional board, PRGICE, for its programming, but then it can run as an standalone computer.
Features:
ICE40HX4K FPGA with 7680 logic cells and 16KB RAM
External SRAM with 128KB and 16-bit busses
Flash SPI for FPGA configuration and storage
16 MHz crystal oscillator
VGA interface with 4 bit DACs (16 levels for each color component, or 4096 colors)
PS2 keyboard interface
Atari style joystick interface. It can also drive a NES game controller
1-bit, PWM capable, audio output with integrated amplifier
SD card connector
Micro-USB connector for power input.

Programming Board: PRGICE
Features:
USB to serial interface to PC, CDC-ACM compatible
32-bit ARM cortex-M0 for FPGA configuration and Flash programming
Provides a serial interface to the PC after programming
Can power the 3.3V section of the SIMRETRO board from the USB connector
Hardware Sources:
Firmware for the microcontroller & linux uploader:
lpc11loader.tgz
folder listing:
lpc11loader
An ARM toolchain is required for firmware compilation.
Now, the frequency of pin 21 can be selected from the command line. It defaults to 12MHz, but it can also be 16MHz. (or in general 48MHz/N, with N integer)